What kind of shopper are you?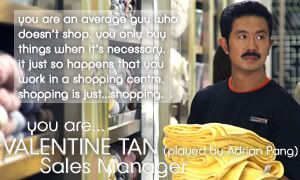 sales manager - valentine tan (played by adrian pang)www.goneshoppingthemovie.com
Take this quiz!

Sorry lah, figured why not, since the director e-mailed me saying thanks for mentioning the movie on my blog (weird right? who the hell reads this site? I'm not Xiaxue or Alfian or Laozhabor lah...)
But seriously, "Gone Shopping" is worth watching. It ain't perfect (the English segments are kinda stilted), but it's visually delicious and imaginative and moving and strangely evocative of Singapore moments.